Your MOST underutilized asset - Your Network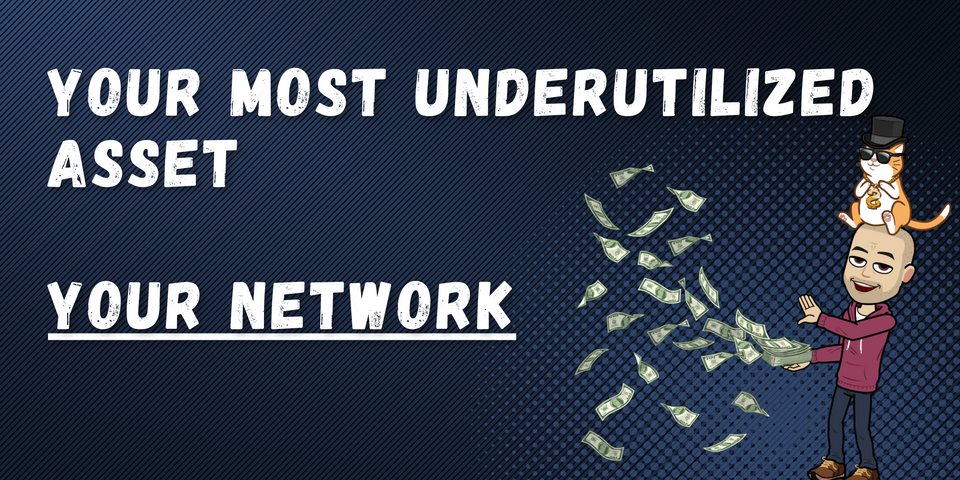 This week I got a taste of the power of networking.
Networking helps with anything you want to accomplish in your life.
I'm sorry I didn't start doing it sooner. Avoid my mistake start NOW.
Seriously you must!

Networking will help you:
Find a job
Start a business
AI-proof yourself
Get help with any problem
Have friends and a sense of belonging
It's a safety net.
Life is just better and easier with a solid network.
You'll regret not building your network.
How to start?
Networking is a human pinball game.
You're the ball.
Your goal is to bounce off as many things as possible.
The 5-step formula even a total novice can use to grow, sustain and enjoy the fruits of their network

Have a reason to network.
It can be finding a job, getting to know people, wanting to help, wanting to learn something OR making friends.
Just find a reason.
The right mindset
Life isn't a zero-sum game.
Think how you can help the other person. How both of you can grow from this meeting?
When I get on calls I keep these wise words in mind:
"If you want to be wisely selfish, care for others."
– Dalai Lama
Start with your closest circle
Jump on calls with them or grab a coffee, and talk about your situation.
Ask for their help,  can they introduce you to someone?
Really listen to them - Here's a good place to start. What do they need? What are their pains? How can you help?
Start your personal Rolodex - Your personal CRM
After the call write a short note about the other person.
How you met them?
What do they need help with?
What can they help someone else with?
Who might you connect them with?
Action items

I highly suggest you use a tool to make this more scalable.
Book regular time on your calendar to review your Rolodex, reach out, and follow up with people.
This is the current CRM template I'm using, it's pretty young and still a work in progress. I add to it every week.
Follow up and make connections
After the call send them a thank you note, and a thing or two you took from the conversation.
State your action items if they are any.
Update them once you do them.
I'm a verbal person, so I send a short email with a Loom video.
Follow up
Weeks or months after the meeting check in with them, and see how they're doing with the thing they were struggling with.
Did they overcome it? Share where you're at.
Jump on another call.

Start building your network!
If you're afraid, message me. I'll get you started on this wonderful journey
Good luck!
---
In case you're interested this is the mistake I made
Few months ago I started my consulting business for founders and business owners.
It's an amazing experience! Fun, tough, and self-developing (just the way I like it).
The thing I struggle the most with is sales.
Going in, I thought I'd post content on Twitter, do some cold outreach, land 2-3 clients a month and I'll be good.
Well turns out reality is different… Very different.

I asked myself what's the reason I'm doing this on Twitter, but not in real life?
The harsh truth is I was afraid. Ashamed of telling people I left my 9-to-5 to go on this journey.
Ashamed to ask for help.
What will people say?
What would they think of me?
Sales didn't come in at the rate I hoped for. Pushing me to face my fear and reach out to people I met over the years. Gut wrench.
Facing my fear and doing it has been wonderful!
I'm sorry I didn't do this sooner!!!
( Somehow this is usually the case when facing my fears)
I've reached a point where I believe EVERYONE should be growing and tending to their network.
I don't mean in a selfish way "What can I get out of this person?"
But in a giving way "How can I help this person? Who can I connect this person to? What can I do to help her?"