Nail your job interview - FREE email course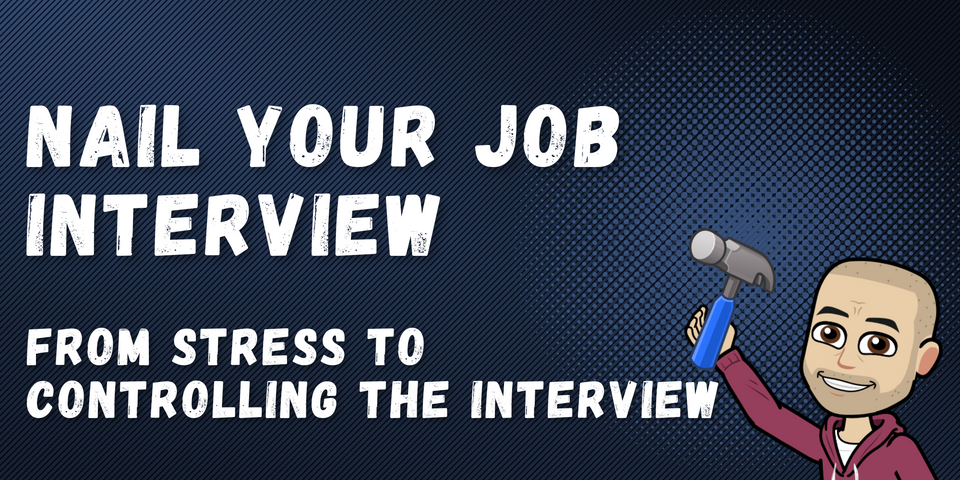 Standout from all other candidates
A free 7-day email course to level up your job interview game.
Be calmer and allow your true self to shine, instead of your worst, stressed self.
The skills you'll learn here will help you in any interview for the rest of your life.
Used by myself and my clients to land the jobs they wanted
Job interviews can seriously suck!
I went to plenty of job interviews, it seemed that there was a lot of luck involved in the process. I had little-to-no ability to affect the outcome, I felt I'm rolling the dice each time.
I'd prepare for questions and the technical stuff, but still felt I'm not taking initiative, not leaving a lasting impression, and that they didn't meet the real me.
I was frustrated!
But they can be fun!
Other interviews were great. I clicked with the interviewer and was relaxed and on point. My jokes and personality really came through.
Even if I didn't get the position, I was happier.
Then came Google...
I had a job interview at Google. They sent me an email with a PDF with an outline of the process and books. Yes, books to read to be ready 😱
I wanted the role but knew it was a long shot, but I wanted it! So I told my wife:
"I'm going to prepare as hard and as seriously as I can for this interview.
Even if I fail, I'll learn from it".
I started reading the materials and looked for job interview preparation books, YouTube videos, articles, and everything. It was the first time in my life that I internalized what "studying" really means. Before that, I didn't really sit down to study with passion. Yes, not even during university.
I'd study at night after work, during the weekend.
Hell, we went on a family vacation and I brought my laptop and studied during the vacation.
I didn't get the job. I wasn't happy, but I was satisfied.
I could say wholeheartedly that I did my best.

The prize for doing my best?
Noticeable upgrade to my professional and interviewing skills.
After this bootcamp, other interviews were a breeze... I ended up landing a role that was a better fit for me than Google.
I'm weird that way...
The thing about me is that I think in processes and systems. I can't help it.
So I turned all the things I've learned into a system and started sharing with friends.
They were super happy with it!
I shared it with clients they were super happy with it as well.
Cool!
I was onto something here.
Now I want to share it with anyone that is willing to put in the work to nail their job interview!
Why am I doing this?
This course is part of my passion to help people, and my journey to help people build the life they want.
Having no income or no stable income is stressful, I'd like to help people shorten this time and land the jobs they want.
I've got this "laying around", it felt like a total waste not to share it with the world.
What's in the box?
In this 7-day FREE email course, you'll learn:
Start the interview strong and calm by nailing the answer to the oh, so famous "Tell me about yourself?" question.
Have a bag of stories you can draw from to demonstrate your qualities.
Be calm and human. No memorizing, hacks, or tricks. Just you.
Leave a great impression on your interviewer.
You'll use the skills from this course in any interview moving forward.
The program:
You'll receive 1 email a day with an actionable lesson.
Lessons require 5-15 minutes a day to complete.
This is an interactive course. Send me your questions, progress updates, or anything else.
curriculum
Day 1: Nail "Tell me about yourself".
Day 2: "Seeing" the interviewers scorecard.
Day 3: Prepare your stories.
Day 4: Common questions to preprae for.
Day 5: Do you have any questions?
Day 6: Show them you care.
Day 7: Take care of yourself during the job search period.
DO NOT sign up IF:
You're not willing to put in the work. There's no magic, you'll have to work up to 15 minutes a day.
You don't have the skills for the role. This email course won't teach you the answers to professional questions. It'll show you how to answer, but you must have the knowledge.
You know it all.
You're amazing at job interviews and don't need any help.  

If you have a question don't hesitate to reach out (@cool_idea on Twitter, LinkedIn, or Email).