Notes from mini-course Conversion class
Notes from Eddie Shleyner's - Mini course Conversion class
I want to upgrade my written persuasion game.
Following a recommendation from Claudia Stellener, I started looking into Eddie's website.
Subscribed and started with the free mini-course - Conversion class.
My notes from this class
Start from the market
Make sure there's a market and gathering places for what you're offering, otherwise you're wasting your time.
This reminded me of 2 other concepts
Serve a starving market - Alex Hormozi
Find your target audience's watering holes - Amy Hoy.
Start with the end goal in mind - The landing page
First work on your landing.
The materials and copy you'll create for it will serve you later for other materials you'll need (ads, social media posts, etc.).
The landing page MUST show relevance to the ad or link or offering that got ppl to it immediately.
This is like Mr. Beast's concept:
Within 10 seconds you MUST show how this video is related to the title and thumbnail.
After all that's what got ppl here.
Create a dedicated subscription page on your website
The page should communicate clearly:
Summary of your offer.
Benefits of your offer.
Social proof - Why should someone trust you?
Make it easy to join. Eddie uses the copy: "Just your email, please:"
The page should be long, harnessing the L.I.S.H concept (Length-Implies-Strength Heuristic), BUT full of CTAs.
Always make sure your readers are one click away from your subscribe page.
All CTA's should have a single purpose - Subscribe.

How to get social proof
To get social proof Eddie does a few cool things:
His landing page is FULL of testimonials! You write a testimonial and you get a link back from him (SEO payment…Noice!).
Use a Google form to collect reviews.
Here's how:
Make a list of ppl that respect your skill, past and present client and colleagues.
Create a Google form asking for: Name, Website, Role, Review.
Send each person a short email asking for the review:
Start adding reviews to your website, near the top of the page. "Show your proof first".
Example of the short email to ask for the testemonial: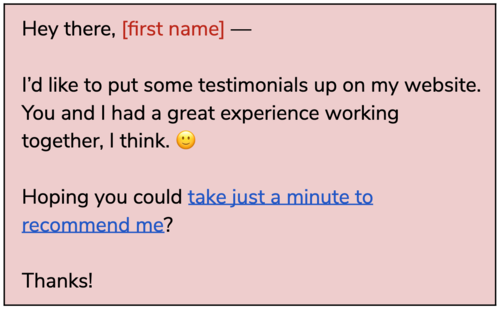 Let me know how you learned or learning to be persuasive online.
That's it for now, hope it was helpful.
---
If you'd like to get ideas, techniques and tips that will help you build the life you want, subscribe below.
* It takes 10 seconds and I never spam.
Resources to build the life you want