Welcome to your funeral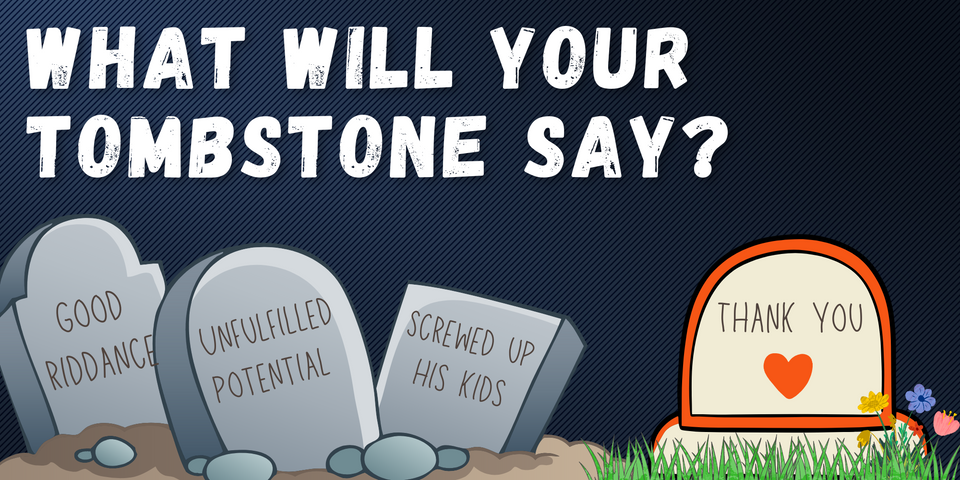 This post will teach you how to use your fears to point you towards the life you want. It's potent rocket fuel that will launch you forward.
This method will make sure your actions are aligned with your internal compass. That you're moving in the direction you want, and it'll minimize regrets you'll have on your deathbed (Jeff Bezos style).
Most people go through life without a sense of purpose, as a result they are characters in someone else's story. Instead of working towards the life they want, they live some hand-down life which makes them miserable.
Let's make sure you're not one of these people.
Let's put a pen in your hand and make you the author of your story!
You don't have to be famous, rich, a world changer, or an historical figure, you only need to live the life you want.
You want to be a character or an author?
It's your funeral 🪦
Congratulations, your time on this rock passed, we hope it was well spent. Hopefully you left the place better than you found it.
Welcome to your afterlife! We've been waiting for you.
Now let's play a little game of Inversion.
What writing on your headstone (epitaph) are you most afraid of?
There's more than one thing, make a list.
Write it down. Unless this list is starting you in the face it won't help you.
Trust me if you want to avoid these outcomes, you have to look at this shit list right between the eyes.
I know it's gut wrenching, but it's better than wasting your life.
My list is:
Unfulfilled potential
Waste of time
Screwed up his children
The world is better off without him
No one cares he's gone
Accomplished nothing
Left the world in worse shape than how he got it
Good riddance
Did nothing worth mentioning
I could go on for a while...
Dude! That's some heavy s#!t
Let's move to something happier.
Let's flip the script, let's plan your perfect funeral!
You lived the life you dreamed of! What song will be played at your perfect funeral? What words will be spoken? Who will be there to say goodbye? How will they feel?
I'll go first:
I'm surrounded by family and friends, they're sad to say goodbye, but grateful for the time we spent together.
There will be crying, but also laughter and smiling, it'll be a celebration of life.
There will be good food, wine, music, great conversations and stories. Connections and relationships will be created or rekindled.
Many people will say how much I touched their lives. That I inspired them and helped them become better people and build the life they want.
My friends will tell wonderful stories of our time together.
My wife, kids, grandchildren, and great-grandchildren will be there. Together. They'll be a tribe at peace, no fighting and politics.They'd be happy for our days together, no hard feelings, no unspoken words and feelings.
I've taken care of them financially and didn't leave a mess for them to figure out and fight over.
I know which of these outcomes I want. I'm not sure I can accomplish it, but I can try by making sure my actions are moving me towards it.
Fieldwork
Take the list of headstone writings you want to avoid.
For each item on the list write down 1-3 things you can do to avoid it.
Again if this isn't written down, you didn't do it.
For your perfect funeral do a similar thing, only write the actions that you have to take to reach it.
The actions that will move you towards it.
This is a tough thought exercise, but it'll help you move towards the life you want and avoid the life you don't want.
You'll have enough regrets, make sure you're not collecting unnecessary ones.
Go build the life you want!
More resources to build the life you want